Alpha Wuerhosaurus is an altered version of Wuerhosaurus made by the Alpha Gang.
Statistics
Arcade Stats
Species: Wuerhosaurus
Sign: Paper
Power: 1000
Technique: 1000
Attack:

Paper (Critical): 580
Rock/Scissors: 435

Types:

Defense Type (Japanese Alpha Gang's Ambition series; English & Taiwanese 2008 Special Edition)
Poison Type (Japanese Kakushin 6th Edition)

Owner: Ed (Alpha Gang)
Other: In the DS Game, Wuerhosaurus was altered by Dr. Z and given to Ed so he could battle the player.
In the Japanese version, it was initially available as limited exchange promotional card like all Alpha Dinosaurs.
Japanese
English
Taiwanese

2008 Special Edition (ACT004-龍; Defense Type)
TCG Stats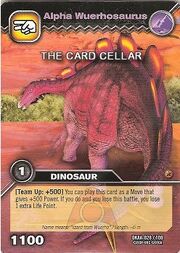 Species: Wuerhosaurus
Attribute: Earth
Sign: Scissors
Power: 1100
Level: 1
Life: 1
Card Code: DKAA-028/100
Card Rarity: Common
Image From: cropped Alpha Gang's Ambition arcade card
[Team Up: +500]

You can play this card as a Move that gives +500 Power. If you do and you lose this battle, you lose 1 extra Life Point.
Trivia
Gallery