Wall Smash is a Normal Move Card. It is only included in the arcade game.
Statistics
Edit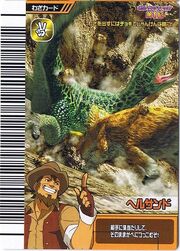 Names:
Attribute: Normal
Sign: Scissors
Compatibility Tabs: 1-4 (bad), 5-6 (great)
Usage Condition: You have to win at Scissors to use this Move, and your Dinosaur should ideally have over 800 Technique.
Effect: Distract your opponent by looking the other way, then charge up to them and push and slam them into a stone wall!
Japanese
English
Taiwanese
It was one of the first set of 15 Normal Moves released in the arcade game.
In the arcade game, a Dinosaur needs 900-1100 Technique to use this Move to full effect, thereby indicating those with 1000-1200 Power.
In the early English arcade version (and/or in the later-repeated Nemesis Edition), it was called "Hell Smash", and features the typo of "smashs" in the effect description.
Artwork from its various arcade cards is seen on the TCG Move Cards Sand Storm (07 1st/1st+) and Cranial Comet (06 4th).
Though it has no direct TCG card, unlike its fellow Technique-minimum Move Neck Crusher which is truly absent, Wall Smash's artwork is featured on a first deck Normal Move, Sand Storm.
Community content is available under
CC-BY-SA
unless otherwise noted.