Udanoceratops had a robust lower jaw and may have been a biped (walked on two legs).
General Statistics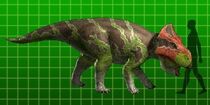 Dinosaur King Statistics
Arcade Stats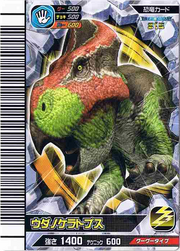 It was only available in the Japanese arcade.
TCG Stats
Udanoceratops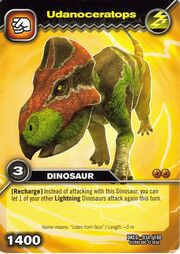 [Recharge]

Instead of attacking with this Dinosaur, you can let 1 of your other Lightning Dinosaur attack again this turn.
Swift Udanoceratops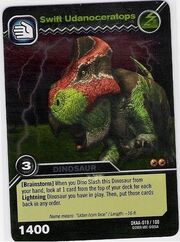 [Brainstorm]

When you Dino Slash this Dinosaur from your hand, look at 1 card from the top of your deck for each Lightning Dinosaur you have in play. Then, put those cards back in any order.
Playful Udanoceratops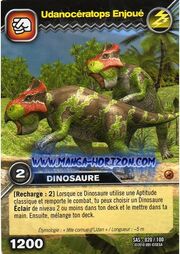 [Recharge: 2] (?)

When this Dinosaur uses a regular Move and wins the battle, you can choose a level 2 or lower Lightning Dinosaur from your deck and put it into your hand. Then, shuffle your deck.
Trivia
Videos