Statistics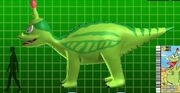 Species: Tsintaosaurus
Name: チンタオ (Tsintao)
Sign: Scissors
Strength: 1200
Technique: 1000
Attack:

Scissors (Critical): 610
Rock/Paper: 420

Type: Tie Recovery Type
Arcade Nickname: やっぱ、悪知恵だっつーの! (After all, its a bad wisdom!)
Other: It sort of looks like a chibi dinosaur, even though it's as big as a regular Tsintaosaurus. It was a prize from a contest made by Sega.
Tsintao was only released in Japan in the 2008 CoroCoro Comic and is a promo card.
2008 CoroCoro Comic (EX10-竜)
Trivia
Tsintao is introduced in the arcade game by Max/Ryuta shouting "Who are you?!" ("Dare da omae wa?!") as it bounces on its pointed crest and strikes a pose before it goes through the normal Grass Dinosaur introductory animation. Only the main dinosaurs' chibi forms and Eoraptor have a similar pre-introduction scene, but they change form before the main introduction.
Even though its card shows it as a true Grass Dinosaur, the Kyoryu-King website's Special Dinosaur Museum shows its icon as a yellow exclamation mark on a purplish background, the symbol used by the Museum for Normal Move Dinosaurs.
Gallery