In 2013, studies have shown that the horn-like protrusion of Tsintaosaurus was actually the back of a bigger crest, meaning it would have looked more like Lambeosaurus.
General Statistics
Dinosaur King Statistics
Arcade Stats
TCG Stats
Tsintaosaurus
[Heal]

When this Dinosaur wins a battle during your turn, you gain 1 Life Point.
Friendly Tsintaosaurus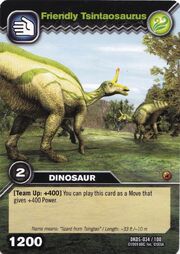 [Team Up: +400]

You can play this card as a Move that gives +400 Power.
unknown Tsintaosaurus variant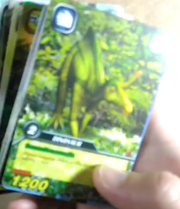 Trivia
Gallery