Although they are the same species, Super Triceratops and Super Chomp have different cards and stats.
Statistics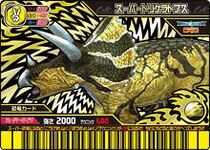 Like all Super Dinosaurs, it was only available in the Japanese arcade.
Trivia
Although a Super Dinosaur typically has the same Strength and twice the Technique and Attacks of its regular form, the stats of Triceratops and Super Triceratops are seemingly unrelated. On the backs of Super Triceratops arcade cards, there are images of a yellow/orange Triceratops (who isn't Chomp) with the appropriate numbers of points compared to the Super form. The possible reason is that the "orange" Triceratops replaced the status of Styracosaurus, the first Gold rare Lighting Dinosaur that in all other Elements was their main dinosaur's species.
Along with Super Titanosaurus, Torvosaurus, Sinraptor, Tsintaosaurus, and Talarurus, it is one of the second round of Super Dinosaurs released.
It is the first Super Dinosaur available in the Japanese McDonald Happy Set Meal Edition.
It is instead called "Awakened Triceratops" in the DS Game.
Gallery
Videos