For Titanosaurus colberti, see Isisaurus.
Despite being a famous dinosaur, the original Titanosaurus fossils are so fragmented as to be indistinguishable from most other titanosaurians, leaving the dinosaur a dubious animal, and some of its better known species to be reassigned as separate animals, such as Isisaurus (formerly T. colberti).
General Statistics
Edit

Dinosaur King Statistics
Edit
Arcade Stats
Edit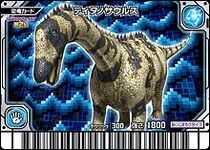 Titanosaurus was only available in the Japanese arcade versions.
TCG Stats
Edit
Titanosaurus
Edit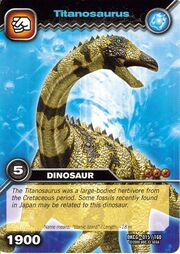 The Titanosaurus was large-bodied herbivore from the Cretaceous period. Some fossils recently found in Japan may be related to this dinosaur.
Grazing Titanosaurus
Edit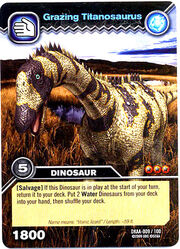 [Salvage] If this Dinosaur is in play at the start of your turn, return it to your deck. Put 2 Water Dinosaurs from your deck into your hand, then shuffle your deck.
Shoreline Titanosaurus
Edit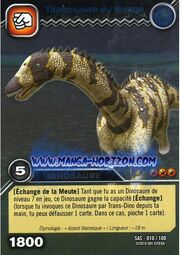 [Pack Exchange] As long as you have a level 7 Dinosaur in play, this Dinosaur gains [Exchange]. (When you Dino Slash this Dinosaur from you hand, you can discard 1 card. If you do, draw 1 card.)
Community content is available under
CC-BY-SA
unless otherwise noted.