Tie Breaker is a Normal Move Card. It was only in the arcade game.
Statistics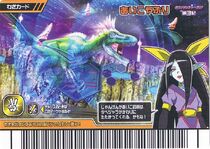 Names:

Japanese: あいこやぶり
Taiwanese: 平手翻盤 (Tie Comeback)

Attribute: Normal
Sign: Scissors
Compatibility Tabs: 1-4 (okay), 5-6 (great)
Usage Condition: This Move activates when you win with any Sign after a tie, and your Dinosaur should ideally have over 800 Technique.
Effect: When you win a battle, 3 Tapejara fly in. If the next battle is a tie, they stop your opponent's attack and hit them with damage!
Tie Breaker is one of the first round of 15 Normal Moves released in the arcade.
Japanese
English
Taiwanese
Trivia
Artwork from one of its various arcade cards is seen on the TCG Move Card Elemental Team-Up.
Gallery