Tie Bomb is a Normal Move Card. It was only included in the arcade game.
Statistics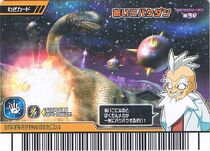 Attribute: Normal
Sign: Paper
Compatibility Tabs: All
Usage Condition: You have to win with any Sign to use this Move.
Effect: After a win, Alpha Bomb Mechs will float around your opponent. If the next battle is a tie, they explode!
Japanese
English
Taiwanese
Trivia
According to the card's Robot Data File, the Tie Bombs were invented by Rod.
If Tie Bomb activates in a 2v2 match on the turn its user defeats their first opponent, its activation will not carry over to the second opponent when they swap in.
Gallery