Tie Attack is a Normal Move Card.
Statistics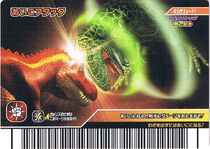 Names:
Attribute: Normal
Sign: Rock
Compatibility Tabs: All
Usage Condition: You have to win with any Sign to prepare this Move; it will trigger if the next round is a tie.
Effect: Gather a surge of energy to deal your opponent more damage when you tie! This does not end the round.
Japanese
English
Taiwanese
Trivia
Gallery