Technique Boost (Technique Up in the Japanese arcade) is a Normal Move Card. It is only in the arcade game.
Statistics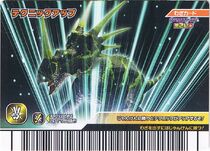 Attribute: Normal
Sign: Scissors
Compatibility Tabs: All
Usage Condition: You must win with any Sign to use this Move.
Effect: After your attack (and any other Move activating), a surge of energy increases your dinosaur's Technique by 400!
Japanese
English
Taiwanese
Trivia
Gallery