Statistics
Edit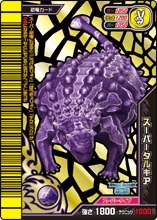 Like all Super Dinosaurs, it was only available in the Japanese arcade.
Kakushin 5th Edition Super Ω (New; SU73-竜)
Along with Super Saichania, Anchiceratops, Baryonyx, Rajasaurus, Monolophosaurus, Muttaburrasaurus, Parasaurolophus, Torosaurus, Dicraeosaurus, Tarbosaurus and Liliensternus, it is one of the latest round of Super Dinosaurs released.
Community content is available under
CC-BY-SA
unless otherwise noted.