General Statistics

Dinosaur King Statistics
Arcade Stats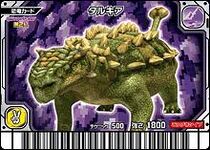 TCG Stats
Tarchia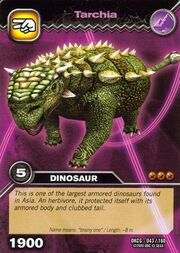 This is one of the largest armored dinosaurs found in Asia. An herbivore, it protected itself with its armored body and clubbed tail.
Grazing Tarchia
[Super Survival] When this Dinosaur uses a Super Move and wins the battle, you can return 1 of your other Earth Dinosaurs in play to your hand.
Howling Tarchia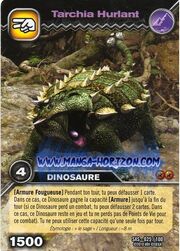 [Spirited Armor]

During your turn, you can discard 1 card. If you do, this Dinosaur gains [Armored] until the end of the turn. (If this Dinosaur loses a battle, you can discard 2 cards. If you do, this Dinosaur stays in play and you don't lose any Life Points from that battle.) You can only use this ability once per turn.
Trivia
Gallery