Tapejara Dive is a Normal Move Card.
Statistics
Edit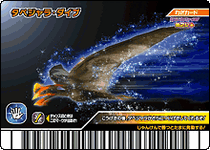 This card was only available in the Japanese arcade.
Attribute: Normal
Sign: Paper
Usage Condition: This Move can activate after you win at any sign (after the icon "!" appears).
Effect: Tapejara swoops in and hits your opponent for extra damage!
It was the third and final Pterosaur Dive Move in the arcade, and the only one to not appear in the anime.
The glow around Tapejara and the sign of the Move Card (Paper) are both blue. The other 2 Dive Moves (Anhanguera Dive and Tupuxuara Dive) work similarly.
It was the second Move Card available as a Fossil Card and is the 16th Fossil card in the arcade.
When multiple Dive Moves trigger at once, the pterosaurs attack in different manners. When all three trigger, Tapejara attacks first and flies as normal, ramming the opponent horizontally from the front, but is the only one to do so.
This Move is the only one out of three Tapejara-based Move Cards that features the correct species of Tapejara, T. wellnhoferi. The other two cards are based on specimens now belonging to the genus Tupandactylus.
Community content is available under
CC-BY-SA
unless otherwise noted.