Tag Team (Pawpaw Power in the Japanese arcade) is a Normal Move Card.
Statistics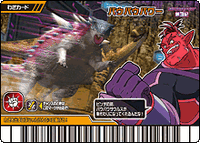 Attribute: Normal
Sign: Rock
Effect: The third time in a row that you lose at Rock-Paper-Scissors, Pawpawsaurus comes and takes the hit for you.
Anime Stats
Attribute: Normal
Owner: Ursula (Alpha Gang), Max Taylor (D-Team)
First Appearance: Temple Tempest
Used to Defeat: None
Effect: Pawpawsaurus jumps in front of all of your opponent's attacks.
Other: It was Terry's third Move card. Later, Max used the move for Chomp only for the templers.
Anime
The Tag Team Move Card was discovered by the A-Team while they were searching under the Temple of the Sun for the Temple of the Moon and the Alpha Metal hidden in it. They used it for Terry to counter Chomp's Lightning Strike. After that, Chomp wasn't able to get through him, even with Electric Charge.
Later that episode, the move was used against Ace, even strong enough to withstand Ninja Attack. When the Crystal Skull was displaced, causing the temple chamber to start collapsing, Pawpawsaurus used itself to try and jam the mechanism lowering the ceiling, at which point the Alpha Gang made their escape, leaving it behind. The D-Team rescued Pawpaw by returning the Crystal Skull to its pedestal. Then Max used it for Chomp and it was honored by the locals for saving their temple.
Trivia
Although this Move makes its user almost undefeatable, it is used only 2 times in the anime.
Artwork from one of its various arcade cards is seen on the TCG Move Card Knockout Blast (DKCG only).

There is also an unrelated "Elemental Tag Team" TCG card featuring a Final Fury card's artwork.
Gallery
Community content is available under
CC-BY-SA
unless otherwise noted.