Based on stray teeth, its type species is considered dubious, and its two other species were synonymized with Yangchuanosaurus in 2012.
General Statistics
Edit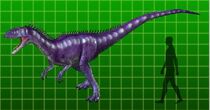 Name: Szechuanosaurus campi
Name Meaning: Lizard of Szechuan
Diet: Carnivore
Length: 5-6 meters (16-20 feet)
Time Period: Middle/Late Jurassic
Classification: Allosauroidea --> Metriacanthosauridae
Place Found: China
Discoverer: Young, 1942
Dinosaur King Statistics
Edit
Arcade Stats
Edit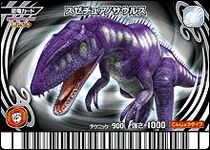 It was only available in the Japanese version.
TCG Stats
Edit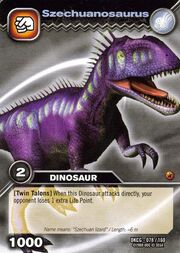 Attribute: Wind
Sign: Rock
Power: 1000
Level: 2
Life: 1
Card Code: DKCG-078/160
Card Rarity: Common
Image From: (new art)
[Twin Talons]

When this Dinosaur attacks directly, your opponent loses 1 extra Life Point.
Dr. Taylor's arcade comments:

Original: 中国で発見された肉食恐竜だ。中国ではじゅうような恐竜化石が次々と発見されている。
Translation: A carnivore discovered in China. Important dinosaur fossils in China have been discovered one after another.

It is the 18th dinosaur available as a Fossil Card.
Community content is available under
CC-BY-SA
unless otherwise noted.