Super Impact is a Grass Move Card.
Statistics
Edit
Arcade Stats
Edit
It is the first of two Special Attack Moves for Grass.
Anime Stats
Edit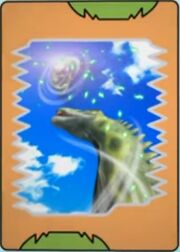 The Super Impact card was found in a Card Capsule in Augusta, Georgia, by Dewey in Tee'd Off when he was looking for his golfball; he then put it up for trade auction online. Eventually, the Alpha Gang traced him and stole the card when they said they'd demonstrate it. They used the card for Altirhinus, summoning Supersaurus; Altirhinus was thrown into Chomp, wounding him badly, but when it was used for the second time, Chomp dodged it, Altirhinus accidentally defeating Spiny. Then Paris was summoned, who countered it with Big Foot Assault, summoning Seismosaurus. The two giant sauropods fought with each other, Seismosaurus going down, but Chomp knocked Supersaurus over with Lightning Strike. Supersaurus launched Altirhinus again, but Seismosaurus hit him with its tail, sending him flying into the Alpha Gang's vehicle. Out of energy, he returned to his card, Supersaurus following. The card, along with Altirhinus's card, was reclaimed by Dewey and given to the D-Team.
Community content is available under
CC-BY-SA
unless otherwise noted.