Alpha Suchomimus (also called Super Alpha Suchomimus in the arcade/DS games) is an altered form of Suchomimus created and controlled by the Alpha Gang.
Statistics
Arcade Stats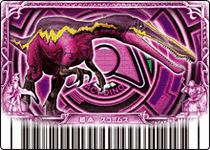 It was only available in the Japanese version.
TCG Stats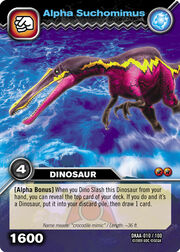 Species: Suchomimus
Attribute: Water
Sign: Rock
Power: 1600
Level: 4
Life: 2
Card Code: DKAA-010/100
Card Rarity: Common
Image From: cropped Kaku 6th arcade card
[Alpha Bonus]

When you Dino Slash this Dinosaur from your hand, you can reveal the top card of your deck. If you do and it's a Dinosaur, put it into your discard pile, then draw 1 card.
Trivia
Ed's arcade comments:

Original: 魚を食べていたと言われている肉食恐竜で、とても細長い顔がとくちょうだぞい。
Transcription: A carnivore said to eat fish, it has a very long face.
Gallery