Stun Dash (Hundred Fierce Face Slaps 百烈ビンタ in the Japanese version) is a Normal Move Card.
Statistics
Edit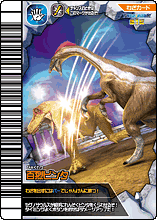 Attribute: Normal
Sign: Paper
Compatibility Tabs: 1-3 (great), 4-6 (okay)
Usage Condition: You must win with Paper after the icon "!" has appeared to use this Move.
Effect: Segnosaurus comes and slaps your opponent repeatedly with its claws, damaging them and lowering their Technique! Rapidly hit the move button to increase the damage they take.
Japanese
English
Taiwanese

4th Edition (New; 059-技; ft. vs. Tyrannosaurus)
Series 2 1st Edition (048-技; ft. vs. Amargasaurus)
Series 2 2nd Edition (064-技; ft. vs. Torosaurus)
Series 2 3rd Edition (059-技; ft. none)
Series 2 4th Edition (068-技; ft. vs. Spinosaurus)
Artwork from its various arcade cards is seen on the TCG Move Cards Counterattack, Desperate Strike, and an unknown DKJC Move.
Community content is available under
CC-BY-SA
unless otherwise noted.