General Statistics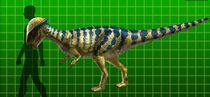 Name: Stegoceras validum
Name Meaning: Horned Roof
Diet: Herbivore
Length: 2-3 meters (6-10 feet)
Time Period: Late Cretaceous
Classification: Pachycephalosauria --> Pachycephalosauridae
Place Found: Alberta, Canada
Describer: Lambe, 1902
Dinosaur King Statistics
Attribute: Normal
Arcade Nickname:

Japanese: 弾丸ヘッド
English: The Bullet Head
Taiwanese: 砲彈頭

Assist Move:

Triple Headbutt: 3 Stegoceras batter your opponent with their heads and lower their Technique.
Trivia
Dr. Taylor's arcade comments:

English: A herbivore with a thick skull dome. It apparently does head-butts with its dome.
Taiwanese: 頭骨很厚的鋼頭草食恐龍。據說會使用鐵頭功來進行攻擊。

Stegoceras shared the same arcade roar as Minmi.
Gallery
Community content is available under
CC-BY-SA
unless otherwise noted.