Statistics
Arcade Stats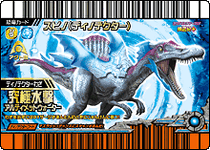 Species: Spinosaurus
Name: Spiny (スピノ Spino)
Owner: Zander & Rod (Alpha Gang)
Sign: Scissors
Power: 2000
Technique: 700
Attack:

Scissors (Critical): 600
Rock/Paper: 475

Type: Lucky 7 Type
Card Rarity: Gold
Other: Like all armored arcade dinosaurs, he gains his armor after he battles enough to fill the bar at the bottom of the screen, using his Ultimate Move on the next win. The bar to use the Move again recharges quicker once he has his armor.
Like all armored dinosaurs, he was only available in the Japanese version.
Anime Stats
Move Cards
TCG Stats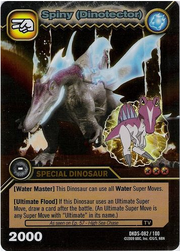 Attribute: Water
Sign: Scissors
Power: 2000, 1900 (PP1)
Level: -
Life: 3
Card Rarity: Gold Rare (DKDS-SAS), Colossal Rare (DKDS), Colossal Exclusive (PP1), Unknown (DKJC)
Other: As a Dinotector Dinosaur, it can only be summoned by being placed on top of a small form Spiny with the [Dinotector On] ability. His card from the Jurassic Clash booster set is unknown, but presumably exists.
Gallery
Videos