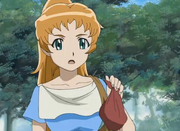 Sophia is a girl who the D-Team befriend in Ancient Rome. She is voiced by Lisa Ortiz in the English dub.
Character
She came from the town of Trachia which was invaded by the Roman Army sent to attack any who resisted. Her brother Spartacus was among those rounded up and made into a slave. The D-Team helps her free Spartacus from Lucius Cornelius Sulla. They succeed, but Spartacus ultimately loses the Cosmos Stone to Sheer.
Community content is available under
CC-BY-SA
unless otherwise noted.