Softening Beam (Soft Beam, やわらかびーむ) is a Normal Move Card. It is only available in the Japanese arcade.
Statistics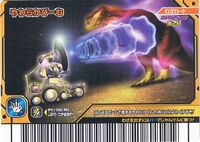 Attribute: Normal
Sign: Paper
Usage Condition: This Moves activates when you win with Paper after the icon "!" has appeared.
Effect: An Actroid with tank treads for feet and a huge satellite disk on its back will transmit a signal over your opponent. They will lose if the next battle is a tie!
Trivia
This Move's effect is effectively the same as Cyclone, letting the player attack during a tie on the following turn, but by influencing the opponent instead of the user.
Gallery