Smiling Hamburger (Nikoniko Hamburger, にこにこハンバーグ) is a Normal Move Card. It is only included in the Japanese arcade game.
Statistics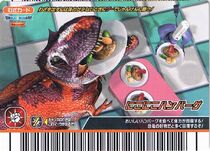 Attribute: Normal
Sign: Rock
Usage Condition: This Move activates when you win at Rock with low health.
Effect: An Actroid feeds your dinosaur a plate of steak, recovering some of its health!
Trivia
Likely due to food name translations between Japanese and English, this Move's name includes "Hamburger", yet its effect (at least going by the card's image) appears to instead include steak.
This Move can create the curious situation of a herbivorous dinosaur eating meat.

In real life, there are actual cases of deer eating songbirds, cows eating chickens, and giraffes chewing on bones. Hadrosaur fossils have even been seen eating crabs, so this would be a curious, yet rare situation.
Gallery