Some scientists think that Sinraptor and Yangchuanosaurus may be the same creature, or at least that some of their species may be the same.
General Statistics
Edit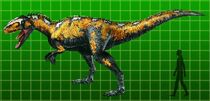 Name: Sinraptor dongi
Name Meaning: Chinese Thief
Diet: Carnivore
Length: 7.6 meters (25 feet)
Time Period: Middle/Late Jurassic
Classification: Allosauroidea --> Metriacanthosauridae
Place Found: China
Describer: Currie & Zhao, 1994
Dinosaur King Statistics
Edit
Arcade Stats
Edit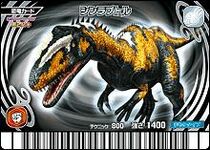 Sign: Rock
Strength: 1400
Technique: 800
Attack:

Rock (Critical): 650
Scissors/Paper: 425

Types:

Heroic Type (Japanese 2007 series; English Series 2; Taiwanese New series)
Revival Type (Fossil Card)
Defense Type (Japanese Gekizan series)

Arcade Nickname:

Japanese: 閃く青龍刀
English: The Gleaming Broadsword
Taiwanese: 閃耀青龍刀
Japanese
English
Taiwanese
TCG Stats
Edit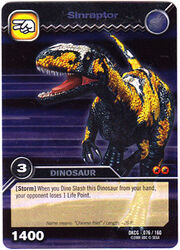 Attribute: Wind
Sign: Scissors
Power: 1400
Level: 3
Life: 2
Card Code: DKCG-076/160
Card Rarity: Silver Rare
Image From: cropped 07 3rd/S2 3rd arcade card
Other Forms: Alpha Sinraptor
[Storm]

When you Dino Slash this Dinosaur from your hand, your opponent loses 1 Life Point.
Community content is available under
CC-BY-SA
unless otherwise noted.