While formerly considered a tyrannosauroid, hence its name and assignment to the Fire Attribute, Siamotyrannus has since been reclassified as a metriacanthosaurid. It is only known from its hip bones and the start of its tail.
General Statistics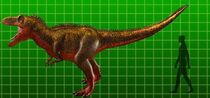 Dinosaur King Statistics
Arcade Stats
Availability
This dinosaur has no official release, but is included in the arcade game's programming. In Japanese arcade gameplay, it is used as one of the Boss of Spectral Pirates.
DS Stats
TCG Stats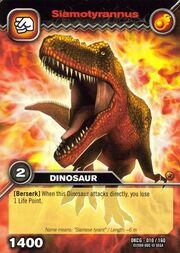 [Berserk] When this Dinosaur attacks directly, you lose 1 Life Point.
Trivia
Gallery