Shunosaurus had a shorter neck compared to its body size than most other sauropods. Although it is known from almost 20 largely complete skeletons, all of the skulls had been compressed by rock, making scientists uncertain of the head's exact shape.
General Statistics
Dinosaur King Statistics
Arcade Stats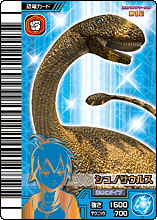 Anime Stats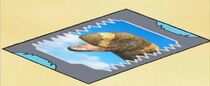 Move Cards
Shunosaurus rears up and raises a spinning tube of water around itself, a swirling column of water rising around its opponent and spinning them off their feet before letting them drop!
TCG Stats
Shunosaurus
A four-legged herbivore discovered in China, the Shunosaurus had a spiked club at the end of its tail.
Sunrise Shunosaurus
[Bonus] When this Dinosaur wins a battle, draw 1 card.
Roman Shunosaurus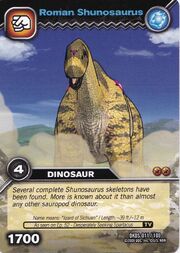 Several complete Shunosaurus skeletons have been found. More is known about it than almost any other sauropod dinosaur.
Anime
Mesozoic Meltdown
Shunosaurus was first summoned by Foolscap to attack the D-Team in Desperately Seeking Spartacus. It fought Chomp in its Spectral Armor form, but Foolscap called it back when Chomp knocked Shunosaurus' tail into a house and the debris fell on him. It was later summoned again to get the Yellow Cosmos Stone from Sophia, attacking the slave camp she was visiting but getting caught up dealing with the guards. It fought alongside Foolscap's Majungasaurus against the D-Team in its Spectral Armor form, facing Ace and Paris. It used Aqua Vortex on Paris when she tried blocking Foolscap from Sophia; however, Paris hit it with a strengthened Emerald Garden, destroying its Spectral Armor and defeating it. Its card was likely reclaimed by the D-Team.
The D-Team later encountered a recolored wild Shunosaurus when they were in the Jurassic Period in Bad Deal, playing with pet-sized Paris in a pond. It ran to escape the forest fire caused by Gigas's Magma Blaster.
Character Design
Personality
Not much is known about the personality of Foolscap's Shunosaurus since it was under the control of the Space Pirates when it fought the D-Team. It is a fair fighter, but doesn't seem to be resilient, as Chomp easily knocked it into a building in their first fight despite its size, before Foolscap activated its Spectral Armor.
The wild Shunosaurus in Bad Deal was a friendly dinosaur, especially towards chibi Paris, but not much is known since it only appeared briefly in the episode.
Trivia
Gallery