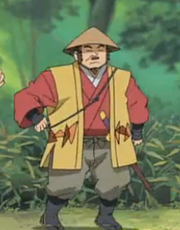 Shogun Ieyasu Tokugawa (Tokugawa Ieyasu) was a great leader in Japanese history, during the Edo Period. He appeared during the Ancient Japan arc of Mesozoic Meltdown. He is voiced by Mike Pollock in the English dub.
Tokugawa is the shogun of Japan, looking for the Half-Moon Stone (the White Cosmos Stone) with the help of Hanzo. However, he is secretly directionally challenged, and uses a very immature personality, such as whining, to get his way.
He is attacked by Sheer, looking for the Cosmos Stone, and several female ninjas (kunoichi), sent by his enemy Takeda to "remove him", being chased off a cliff by Gojirasaurus, running into the D-Team. He then (reluctantly at first) aids the D-Team in their search for the Cosmos Stone, secretly wanting to have it for himself. During his absence, Hanzo uses Dr. Drake to replace him, as the two have an uncanny resemblance. He eventually closely befriends Zoe due to this connection.
Community content is available under
CC-BY-SA
unless otherwise noted.