Due to fragmentary remains and a very unusual body style, the exact size of Segnosaurus is uncertain.
General Statistics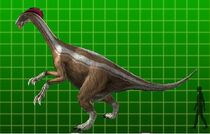 Name: Segnosaurus galbinensis
Name Meaning: Slow Lizard
Diet: Herbivore
Length: 4.5-9 meters (15-30 feet)
Time Period: Late Cretaceous
Classification: Therizinosauria --> Therizinosauridae
Place Found: Mongolia
Describer: Perle, 1979
Dinosaur King Statistics
Arcade Stats
Attribute: Normal
Arcade Nickname:

Japanese: 鉤爪鬼軍曹
English: The Taloned Sergeant
TCG Stats
In Move Cards
Attribute: Normal
Other: Unlike some Move Card Dinosaurs, Segnosaurus isn't given a true Dinosaur Card in the TCG.
Appears In:
Trivia
Dr. Taylor's arcade comments:

English: Has a thick waist and body, with sharp claws on its front legs. Little was known about this species for a long time.
Taiwanese: 腰部和身體很粗,前腳有著銳利的尖爪。很長時間以來都被當成謎的恐龍。

Segnosaurus shared the same roar as Secret-attribute Pawpawsaurus.
Gallery
Community content is available under
CC-BY-SA
unless otherwise noted.