Alpha Sauropelta is a TCG-only Dinosaur, presumably created and controlled by the Alpha Gang.
Statistics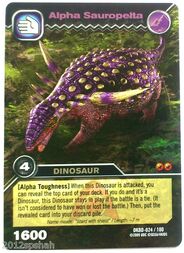 Species: Sauropelta
Sign: Paper
Power: 1600
Level: 4
Life: 2
Card Code: DKBD-024/100
Card Rarity: Silver Rare
Image From: (new art)
[Alpha Toughness]

When this Dinosaur is attacked, you can reveal the top card of your deck. If you do and it's a Dinosaur, this Dinosaur stays in play if the battle is a tie. (It isn't considered to have won or lost the battle.) Then, put the revealed card into your discard pile.