General Statistics

Name: Sauropelta edwardsorum
Name Meaning: Lizard with Shield
Diet: Herbivore
Length: 4.8-6 meters (16-20 feet)
Time Period: Early/Middle Cretaceous
Classification: Ankylosauria --> Nodosauridae
Place Found: Montana, Wyoming, and Utah, USA
Describer: Ostrom, 1970
Dinosaur King Statistics
Arcade Stats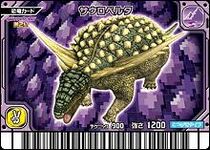 Sign: Scissors
Strength: 1200
Technique: 900
Attack:

Scissors (Critical): 660
Rock/Paper: 420

Types:

Tie Type (Japanese 2006 series; English & Taiwanese Series 1)
Heroic Type (Japanese 2007 series; English Series 1; Taiwanese New Series)
Charge Type (Japanese Gekizan series)

Arcade Nickname:

Japanese: 不動の刃
English: The Unshakeable Blades
Taiwanese: 不動如山的刀刃
Sauropelta is one of the first dinosaurs released in arcade.
Japanese
English
Taiwanese
DS Stats
TCG Stats
Sauropelta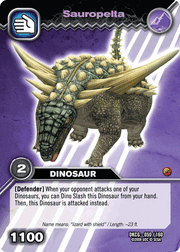 [Defender] When your opponent attacks one of your Dinosaurs, you can Dino Slash this Dinosaur from your hand. Then, this Dinosaur is attacked instead.
Iron Spine Sauropelta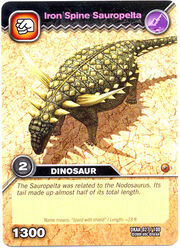 Element: Earth
Icon: Rock
Power: 1300
Level: 2
Life: 1
Card Code: DKAA-027/100
Card Rarity: Common
Flavor Text:
The Sauropelta was related to the Nodosaurus. Its tail made up almost half of its total length.
Trivia
Dr. Taylor's arcade comments:

Japanese: 首からかたにかけて大きなトゲがならぶ草食恐竜だ。せなかもよろいで守られている。
English: A herbivore with a large spike on the back of its neck. Its back also plated for protection.
Taiwanese: 從脖子到肩膀的部份有著很大尖刺的草食恐龍,背部也有著盔甲來保護身軀。

Sauropelta was one of the first dinosaurs released in Dinosaur King.
Along with Saichania, Stegosaurus, Edmontonia, Ankylosaurus, Kentrosaurus, Wuerhosaurus, Euoplocephalus, Nodosaurus, Dacentrurus, and Tarchia, it is one of the available dinosaurs in the Japanese and Taiwanese non-sale Earth Egg card.
Gallery