Although they are the same species, Super Saichania and Super Tank have different cards and stats.
Statistics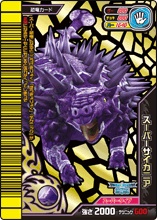 Like all Super Dinosaurs, it was only available in the Japanese arcade.
Trivia
It is sixth Super Dinosaur available in Japanese McDonald Happy Set Meal Edition.
Along with Super Anchiceratops, Baryonyx, Rajasaurus, Monolophosaurus, Muttaburrasaurus, Parasaurolophus, Tarchia, Torosaurus, Dicraeosaurus, Tarbosaurus, and Liliensternus, it is one of the latest round of Super Dinosaurs released.
In the arcade, there seems to be an error with the roar. Whereas the normal Saichania will play its original roar, Super Saichania will play the Tarchia roar instead.
Gallery
Videos