For the armored version of Tank, see Tank/Armor.
Statistics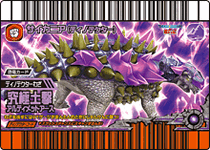 Species: Saichania
Owner: Ed & Laura (Alpha Gang)
Sign: Rock
Strength: 2000
Technique: 700
Attack:

Rock (Critical): 550
Scissors/Paper: 500

Type: Scissors-Scissors Type
Other: Like all armored arcade dinosaurs, it gains its armor after it battles enough to fill the bar at the bottom of the screen, using its Ultimate Move on the next win.
Like all armored dinosaurs, it was only available in the Japanese version.
Gallery