Spectral Armor Rajasaurus is an armored version of Rajasaurus used by the Space Pirates when under their control.
Statistics
Move Cards
Rajasaurus bit into Chomp and swung him around several times, then threw him into the orphanage's tower!
TCG Stats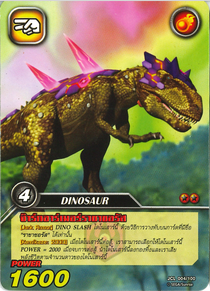 Anime
Mesozoic Meltdown
Shear used this form to battle Chomp after he activated his DinoTector form. The two battled, repeatedly throwing each other into the orphanage. It hit Chomp with a powerful Blazing Spin Attack, but was tossed up and hit by Lightning Strike, destroying its Spectral Armor. Max reclaimed its original card after its defeat.
Gallery