Alpha Rajasaurus (also known as Super Alpha Rajasaurus in the arcade game) is an altered form of Rajasaurus created and controlled by the Alpha Gang.
Statistics
Edit
Arcade Stats
Edit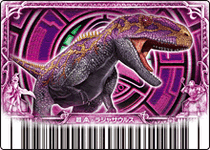 It was only available in the Japanese version.
TCG Stats
Edit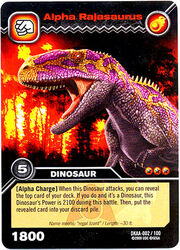 Species: Rajasaurus
Attribute: Fire
Sign: Rock
Power: 1800
Level: 5
Life: 3
Card Code: DKAA-002/100
Card Rarity: Common
Image From: cropped Kaku 6th arcade card
[Alpha Charge]

When this Dinosaur attacks, you can reveal the top card of your deck. If you do and it's a Dinosaur, this Dinosaur's Power is 2100 during this battle. Then, put the revealed card into your discard pile.
Zander's arcade comments:

Original: カルノタウルスににた肉食恐竜で頭に一本のひくい角があり、がっしりとした体つきをしているぞい。
Transcription: It is a carnivore that has a single horn similar to Carnotaurus, it has a solid body.
Community content is available under
CC-BY-SA
unless otherwise noted.