Power is a term from the TCG. There is confusion between it and Strength from the arcade game, each being the biggest number listed on the cards.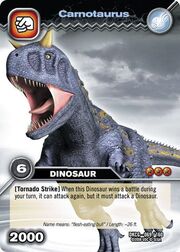 In the TCG, Power is a measure of a Dinosaur's attacking capability and the primary numerical statistic, merging the arcade Attack's function with the arcade Strength's front-and-center position. A dinosaur's Power is combined with that of its Move Card and compared to the opposing dinosaur and Move's to determine who is the winner of the battle, and a tie counts as both losing. A dinosaur's Power is based on their Level, with a standard Power for each Level if no abilities, and then lowered (or raised) according to how helpful or easy to use a dinosaur's ability is to balance out the advantage (or disadvantage) the ability gives; more details here. Power generally ranges from 1000 to up to 2500; small form Special Dinosaurs (main dinosaurs) have 700-800 Power, and the Easter Set special egg cards have only 200 Power.
Community content is available under
CC-BY-SA
unless otherwise noted.