General Statistics

Name: Polacanthus foxii
Name Meaning: Many Spikes
Diet: Herbivore
Length: 4-5 meters (13-16 feet)
Time Period: Early Cretaceous
Classification: Ankylosauria --> Nodosauridae(?) --> "Polacanthinae"
Place Found: UK
Describer: Owen, 1865
Dinosaur King Statistics
Arcade Stats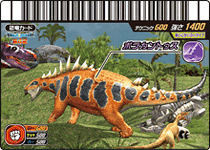 Sign: Rock
Strength: 1400
Technique: 600
Attack:

Rock (Critical): 600
Scissors/Paper: 500

Types:

Tie Recovery Type (Japanese Kakushin series)
Reform Type (Japanese Kakushin 6th Edition)

Arcade Nickname: 卜グ卜グ肉弹兒 (Bokugubokugu Meat Candy)
It was only available in the Japanese version.
TCG Stats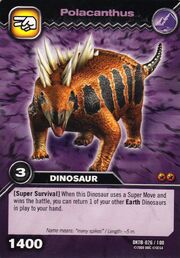 [Super Survival] When this Dinosaur uses a Super Move and wins the battle, you can return 1 of your other Earth Dinosaurs in play to your hand.
Trivia
Dr. Taylor's arcade comments:

Original: せなかに二列にならんだトゲを持った草食恐竜で、こしは大きなほねの板で守られていた。
Translation: A herbivore with two rows of prickles on its stomach, and it is protected by a large flat plate.

One of Polacanthus' arcade cards (shown above) curiously features what appears to be a golden-colored Eoraptor, differing from its white and purple coloration as a Secret Dinosaur, potentially suggesting that its Secret form is an altered form.
Gallery