Ocean Panic is a Water Move Card.
Statistics
Arcade Stats
It is the Tie-attack Move for Water.
This card was only available in the Japanese version.
Anime Stats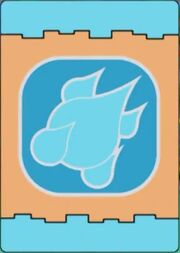 TCG Stats
+800; If your opponent's Dinosaur in this battle is a Fire Dinosaur and you lose, negate any of your opponent's Dinosaur and Move special abilities that happen after the battle. (This means effects that say "If you win," "If you lose," or "After this battle" don't happen.)
Anime
Mesozoic Meltdown
Foolscap used Ocean Panic for his Jobaria in High Sea Chase, summoning five Ophthalmosaurus. They surrounded and attacked Spiny, but he countered them with Futaba Super Cannon, summoning Futabasaurus to snag and whip them away with a stream of water. They followed and tried to attack Futabasaurus underwater, but he eventually lured them back to the surface into the path of Spiny's Ultimate Water, allowing Spiny to hit and defeat them along with Jobaria. Both Ocean Panic and Jobaria's cards were reclaimed by Zoe (with Ursula protesting that they were hers because she won the battle).
Trivia
Gallery