General Statistics

Dinosaur King Statistics
Arcade Stats
TCG Stats
Nodosaurus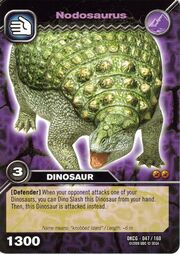 [Defender] When your opponent attacks one of your Dinosaurs, you can Dino Slash this Dinosaur from your hand. Then, this Dinosaur is attacked instead.
Startled Nodosaurus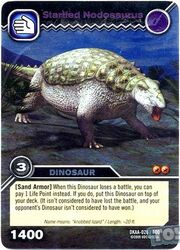 [Sand Armor] When this Dinosaur loses a battle, you can pay 1 Life Point instead. If you do, put this Dinosaur on top of your deck. (It isn't considered to have lost the battle, and your opponent's Dinosaur isn't considered to have won.)
Sure-footed Nodosaurus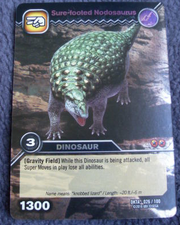 [Gravity Field] While this Dinosaur is being attacked, all Super Moves in play lose all abilities.
Trivia