For the DS Game character, see Minmi (character).
If it is one, Minmi would be one of the few members of the ankylosaurid family to be known not to have a tail club. The original specimen's diagnostic status is debated. In 2015, one of the most well-preserved specimens of Minmi was transferred to another genus, Kunbarrasaurus.
General Statistics
Edit

Name: Minmi paravertebra
Name Meaning: From Minmi Crossing
Diet: Herbivore
Length: 2-3 meters (6-10 feet)
Time Period: Early/Middle Cretaceous
Classification: Ankylosauria --> Ankylosauridae
Place Found: Australia
Discoverer: Molnar, 1980
Dinosaur King Statistics
Edit
Minmi was only featured in a Move Card in the arcade game, but was made into a Dinosaur Card in the TCG.
Arcade Stats
Edit
TCG Stats
Edit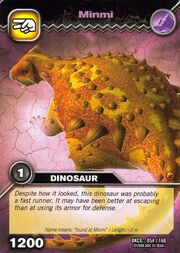 Attribute: Earth
Sign: Scissors
Power: 1200
Level: 1
Life: 1
Card Code: DKCG-054/160
Card Rarity: Common
Image From: (new art)
Flavor Text: Despite how it looked, this dinosaur was likely a fast runner. It may have been better at escaping than using its armor as defense.
Community content is available under
CC-BY-SA
unless otherwise noted.