For the DS Game character, see Minmi (character).
If it is one, Minmi would be one of the few members of the ankylosaurid family to be known not to have a tail club. The original specimen's diagnostic status is debated. In 2015, one of the most well-preserved specimens of Minmi was transferred to another genus, Kunbarrasaurus.
General Statistics

Name: Minmi paravertebra
Name Meaning: Found at Minmi
Diet: Herbivore
Length: 2-3 meters (6-10 feet)
Time Period: Early Cretaceous
Classification: Ankylosauria --> Ankylosauridae
Place Found: Australia
Describer: Molnar, 1980
Dinosaur King Statistics
Minmi was only featured in a Move Card in the arcade game but was made into a Dinosaur Card in the TCG.
Arcade Stats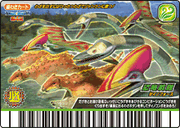 TCG Stats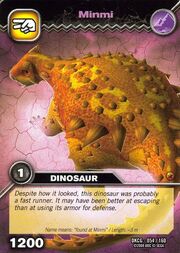 Icon: Scissors
Power: 1200
Level: 1
Life: 1
Card Code: DKCG-054/160
Card Rarity: Common
Image From: (new art)
Flavor Text:
Despite how it looked, this dinosaur was likely a fast runner. It may have been better at escaping than using its armor as defense.
Trivia
Minmi shared the same arcade roar as Stegoceras.

Though it has its own arcade roar in the Kyoryu-King website it stills uses the same roar as Mini-King in the arcade game.

Its name is also used for a side character in the DS Game.
Gallery