The Haunted Hunt is the 25th episode of Mesozoic Meltdown, the 74th of Dinosaur King.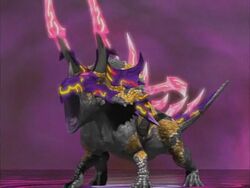 As the D-Team falls of the bridge, Ursula and Zander summon Spiny and Tank. Ursula uses Anhanguera Dive (obtained from Foolscap's Pachyrhinosaurus) for Spiny, summoning two Anhanguera to save Max and Rex, while Zander uses Tupuxuara Dive (probably a created by Dr. Z.) for Tank, summoning a Tupuxuara to save Zoe. Then they ordered them to attack Foolscap who got trapped into the broken bridge. After that, they return them and continue in their search for the Green Cosmos Stone. The Space Pirates also search. Their search ended in a "haunted castle". The D-Team and Alpha Gang split up to find the Cosmos Stone.
Gavro summons Gigas to attack the Alpha Gang. Zander and Ed summons Spiny and Tank to fight Gigas. Ursula and Zoe find the Green Cosmos Stone where they meet Sheer, who summons her new dinosaur Maximus, an altered Triceratops. Ursula uses Terry but he gets beaten by Spectral Punisher. Gigas defeats Tank with Spectral Lancer.
Paris eats the Green Cosmos Stone and gained immense power, using Ultimate Leaf and defeat Maximus. Chomp, Ace, and Spiny use their Ultimate Moves to defeat Gigas. The Space Pirates reclaims their dinosaur cards and retreat while the D-Team claims the Cosmos Stone, but the Space Pirates suddenly return and attack...
Gavro vs. Max/Rex/Zander/EdEdit
Gavro summons Gigas and the Alpha Gang summons their respective dinosaurs.
Ursula calls back Terry to pursue Sheer, and Zander and Ed activate their DinoTector forms. Gigas knocks Tank away and uses Spectral Lancer against Spiny, but he survives. Tank and Spiny use their Ultimate Moves, but Gigas blocks them, and defeats Tank with Spectral Lancer.
Ed loses
Then the D-Team summons Chomp and Ace, applying their DinoTector forms as well. They decide to work together and after a long intensive fight, Chomp, Ace and Spiny take Gigas down with their Ultimate Moves.
Max, Rex and Zander win
Sheer vs. Zoe/Ursula
Edit
Sheer summons Maximus as Zoe summons Paris and activates her DinoTector form, knocking Maximus away. He charges her again, but Ursula comes to the resuce by summoning Terry, activating his DinoTector form, knocking Maximus away. Maximus defeats Terry with Spectral Punisher.
Ursula loses
Maximus starts to fight Paris again, nearly defeating her, but after Maximus is distracted, she eats the Green Cosmos Stone and gains fantastic power. Maximus is defeated with Ultimate Leaf.
Zoe wins
The battles in this episode each feature people of only one gender (Maximus and Terry being male keeps the dinosaurs from fitting this pattern too).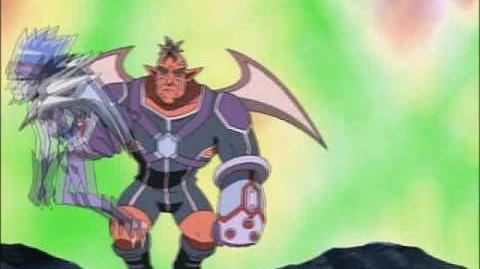 Community content is available under
CC-BY-SA
unless otherwise noted.