Malice in the Palace is the 21st episode of Mesozoic Meltdown, the 70th episode of Dinosaur King.
Seth has a conversation with Shear to control Genie. The Alpha Gang is forced to fight the D-Team with Tank, Terry, and Spiny. Shear arrives and uses her ship to control Genie turning him into his Spectral Armor form and giving him a Move Card. Genie defeated the Alpha Gang's dinosaurs and Paris, but Max and Rex defeated Genie. Once defeated, the Red Cosmos Stone is released. Shear tries to grab it, but Helga picked it up. Zoe reclaims Genie's card (and Move card offscreen) and Zahrah let the D-Team take him with them.
Alpha Gang vs. D-Team
Edit
Ursula summons Terry, Zander summons Spiny and Ed summons Tank. The D-Team then summon Chomp, Ace and Paris. Chomp battles Terry, Ace battles Spiny and Paris is fighting Tank.
Battle interrupted when Shear took control of Genie (no winner)
Alpha Gang vs. Genie
Edit
The Alpha Gang activates their dino's DinoTector forms to fight Genie , they charge forward but all thrown by Genie. Genie then knocks Tank and Spiny a way and charges Terry, but he is holding him back with a lot of effort. Ursula then let Terry uses Heat Eruption to attack Genie, but he counters it with Hydro Cutter, nearly missing Terry. After Zahrah told Shear the location of the Red Cosmos Stone, Genie uses Hydro Cutter to defeat Tank, Terry and Spiny.
Genie wins
Zoe vs. Genie
Edit
Zoe summoned Paris in her DinoTector form to fight Genie. She uses Metal Wing, summoning the Pteranodon to attack Genie, but he knocked him away. Paris charged him, but he stomps her into the ground, defeating her.
Genie wins
Max/Rex vs. Genie
Edit
Max and Rex summon Chomp and Ace activate their DinoTector forms. Chomp and Ace combine Ultimate Thunder and Ultimate Wind to defeat Genie, destroying his Spectral Armor.
Max and Rex win
New Cards
Edit
It is revealed that the Space Pirates can control dinosaurs and give them Spectral Armor even it they have not summoned them. However, since they never tried to control the main dinosaurs of the D-Team or the Alpha Gang, it can be assumed that dinosaurs that have already been summoned by someone else are immune to the control. The fact that Seth points out to Shear that Genie is a wild Card dinosaur indicates that she would not have been able to control it if it had been summoned by an Element Stone.
This is the last episode in the series in which the D-Team and Alpha Gang fight against each other.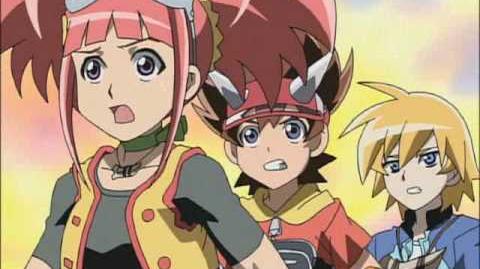 Community content is available under
CC-BY-SA
unless otherwise noted.