Desert Heat is the 19th of Mesozoic Meltdown, the 68th of Dinosaur King.
The D-Team, Zahrah, and Genie journeys to the Forty Thieves, where Dr.Z and the Alpha Gang battles the D-Team. Zander uses Tank to attack Isisaurus with Quake Saber but they fail to get Zahrah. Foolscap sees the D-Team afar. Ursula, Zander and Ed are force to help in a orchestra by the Sultan Prime minister, The next morning. Foolscap arrives. Max fights Foolscap with Chomp and Rex also summons Ace to help Chomp. Foolscap summons Pachyrhinosaurus. Foolscap activates Spectral Armor. Pachyrhinosaurus defeats it with Anhanguera Dive. Zoe summons Paris then Paris uses Green Impulse to counter Anhanguera. Pachyrhinosaurus was defeated but Max is stuck in a quicksand.
The D-Team with Isisaurus wanders off on a desert where they find the Alpha Gang.  Zander summons Spiny and Ed summoning Tank .  Max summons Chomp and Rex summons Ace.  Tank uses Quake Saber on Isisaurus, before they uses their moves to defeat the Alpha Gang they recall their dinosaurs.
No winner (Alpha Gang is winning)
D-Team vs. Foolscap
Edit
Foolscap arrives and battle the D-Team and Isisaurus with Pachyrhinosaurus. Foolscap activates Spectral Armor turning Pachyrhinosaurus into Spectral Armor Pachyrhinosaurus. Max and Rex summons Chomp and Ace. Pachyrhinosaurus uses Anhanguera Dive and defeats Ace. Zoe summons Paris and uses Green Impulse, Tupuxuara beats Anhanguera and Chomp defeats it with Ultimate Thunder.
D-Team wins
New Cards
Edit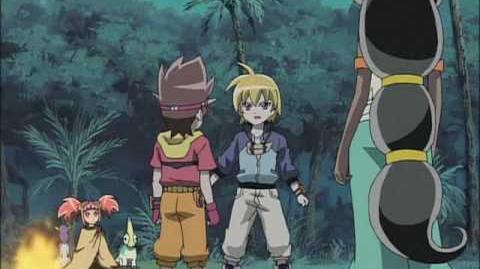 Community content is available under
CC-BY-SA
unless otherwise noted.