Elements of Surprise is the 11th episode of Mesozoic Meltdown, and the 60th episode of the Dinosaur King anime.
The D-Team is searching for the third Cosmos Stone when they encounter Shear, who is also looking for the Cosmos Stone. Shear summons Mapusaurus to attack the woodcutters that disturb her sleep, and then ends up attacking the village. She later summoned it again to force Sanzo Hoshi to help her after capturing him. To attack them, Mapusaurus throws the monk into the volcano, but Ace saves him with Cyclone. When Shear activates Heat Erruption, the volcano errupted, forcing Shear to recall her dinosaur.
Shear once again summons Mapusaurus and grabbed Sanzo Hoshi, but Paris knocks Shear down with her sound waves. She tries to fight back, but the D-Team beat her Mapusaurus, allowing Max to reclaim the card (and the Heat Erruption card offscreen). Having lost her card, she flees saying that they could keep him, that he is useless. Chomp, Ace and Paris use Lightning Strike, Biting Wind and Emerald Garden to stop the lava from the volcano.
Shear vs. Max/Rex
Edit
Max summons Chomp to battle Shear's Mapusaurus. After Ace rescued Sanzo Hoshi, Chomp knocked Mapusaurus away, nearly into the volcano. Shear gives him its Spectral Armor form, while Max gives Chomp his DinoTector form. First they seem to be equally strong, but Mapusaurus knocks Chomp away. Rex then sends Ace to help.
Shear then activates Heat Eruption , causing the volcano to errupt, forcing both sides to retreat.
No Winner
Shear vs. D-Team
Edit
Once again, Shear summons Mapusaurus to fight the D-Team's dinosaurs. When she grabs the monk, Paris uses her call to force Shear to drop him.
Mapusaurus attempts to use Fire Bomb , but Chomp intercepted the attack in midair with Lightning Spear, knocking Mapusaurus down. When Shear told her dinosaur, to not be knocked down by that loosers, Chomp used Gatling Spark to defeat it.
D-Team Wins
New Cards
Edit
While Shear is complaining to the D-Team and flipping her hair, the dark purple trim on her lower skirt vanished.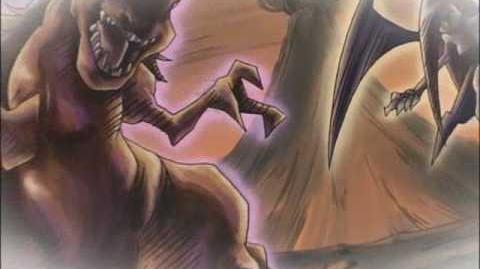 Community content is available under
CC-BY-SA
unless otherwise noted.