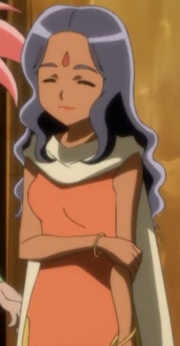 Meena is an Indian Princess featured in the episode Battle Royale! She is voiced by Veronica Taylor in the English dub.
Anime
Meena didn't like all of the rules associated with being a princess, and always dreamed of swimming to the end of the Ganges River so her dream of finding a prince could come true, so she tried to escape her father's palace, but on the way out she accidentally activated a Deltadromeus card. She met the D-Team in the village near the palace, where she and Zoe switched places so Zoe could (in disguise as Meena) live the life of a princess for a time and Meena could help Max and Rex find the dinosaur.
When Deltadromeus appeared, Meena and Chomp were separated from the boys, and she took the opportunity to try swimming in the Ganges, but the dinosaur jumped in and followed her. She quickly realized that it wasn't after her, but was "swimming towards its dreams", too. Then the Alpha Gang showed up and attacked with Spiny. Deltadromeus fought to defend Meena, but took too much damage and collapsed into a card in front of her. She later gave the card to Max, and switched roles with Zoe again (who had escaped the palace on her own terms to avoid all the rules, too). She declared that she wished to study dinosaurs and was made an official D-Team member, and returned to the palace with her mother.
Appearance
Meena wears an orange colored Sari and a egg shell headscarf, traditionally wears a red bindi on the front of her head, and wears a gold bracelet on each wrist. She has black hair and brown eyes and wears dual red sandals.
Personality
Trivia
Despite by no means being the only person the D-Team befriended in an episode, Meena is the only one to actually become an official member of the D-Team by being given a badge.
Gallery