General Statistics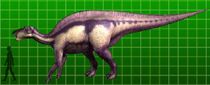 Dinosaur King Statistics
Arcade Stats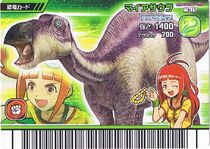 Anime Stats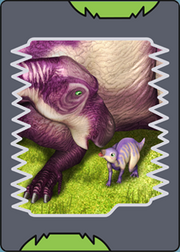 Move Cards
Kick dirt in your opponent's face, then jump at them, bite their neck, and slam them into the ground!
TCG Stats
Maiasaura (DKPM)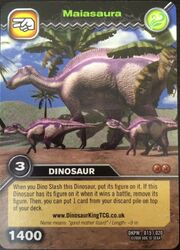 Unnamed Figure Ability

When you Dino Slash this Dinosaur, put its figure on it. If this Dinosaur has its figure on it when it wins a battle, remove its figure. Then, you can put 1 card from your discard pile on top of your deck.
Maiasaura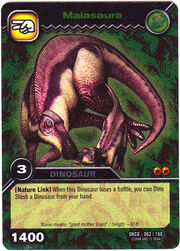 [Nature Link]

When this Dinosaur loses a battle, you can Dino Slash a Dinosaur from your hand.
Nesting Maiasaura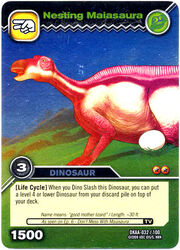 [Life Cycle]

When you Dino Slash this Dinosaur, you can put a level 4 or lower Dinosaur from your discard pile on top of your deck.
Baby Maiasaura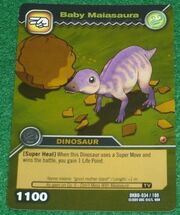 [Super Heal]

When this Dinosaur uses a Super Move and wins the battle, you gain 1 Life Point.
Searching Maiasaura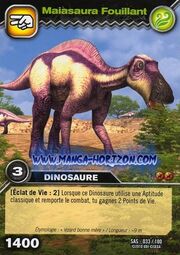 [Radiance of Life: 2]

When this Dinosaur uses a regular Move and wins the battle, you gain 2 Life Points.
Anime
Dinosaur King
Maiasaura's card, along with her Move Card, was activated by curious goat in the Swiss Alps, who kicked the Card Capsule open. Maiasaura was very protective of her egg, but allowed the goats near it. When the D-Team teleported in right in front of her, they thought that she was attacking them, so Max summoned Chomp to battle her. They were equally strong, but when the Alpha Gang spotted them, Ursula summoned Terry to battle them. However, they saw Maiasaura's egg and sent Terry after it. Zoe teleported in and saw this, summoning Paris to knock Terry away from the egg, bouncing it out of the nest. Max recalled Chomp, but Maiasaura saw her egg was gone and went on a rampage looking for it, hitting Terry with Diving Press and knocking him away, defeating him, before going after the nearby Paris. She nearly defeated her, but stopped when she heard her baby crying, who had hatched, which calmed her down enough to let the Battlefield disappear. She and her baby were reunited, and asked the D-Team, through the Dino Holders, to "go home". Through the power of the Grass Stone, Zoe was able to turn them both into a single card, collecting it along with Diving Press.
In Carnival of Chaos, another Maiasaura of unknown origin was seen in the Alpha Gang's amusement park, but due to not eating in so long, its control device failed and it went berserk. It was returned to its card after pet-size Paris knocked its device off.
Later, Zoe summoned the first Maiasaura to fight against the Black T-Rex, but she was defeated when she tried leaping at it and it kicked her.
Mesozoic Meltdown
A wild Maiasaura and her group of babies were caught in the Cretaceous meteor impact in Alien Parent Trap.
Character Design
Personality
Maiasaura was a gentle but very protective dinosaur, especially toward her baby, fighting Chomp and attacking Terry, Paris, and nearly the D-Team when her egg was threatened and later disappeared, showing her strength when she easily defeating Terry. However, she was rather impulsive in her defense, as there was no indication Paris had harmed her egg when she attacked her, though realized her mistake and calmed down when her baby showed up safe, even asking the D-Team through the Stones to help them.
Trivia
Gallery