Light Recovery (Recovery in the Japanese arcade) is a Normal Move Card and was only included in the arcade game. It is not to be confused with the similar Cryolophosaurus-featuring Move Card Counterattack Recovery.
Statistics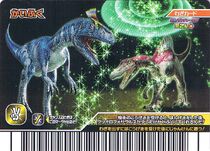 Attribute: Normal
Sign: Scissors
Compatibility Tabs: All
Usage Condition: You have to win with any Sign after a loss to use this Move.
Effect: Cryolophosaurus comes and heals you slightly after taking a hit from your opponent! It appears to heal by about 350 points.
Japanese
English
Taiwanese
Trivia
Gallery