Leaellyn Cure (Saura Healing in the Japanese arcade) is a Normal Move Card. It is only in the arcade game.
Statistics
Edit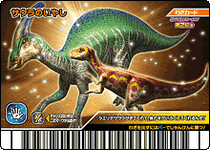 Japanese
English

Series 2 1st Edition (New; 053-技; ft. Spinosaurus)
Series 2 2nd Edition (070-技; ft. Ouranosaurus)
Series 2 3rd Edition (065-技; ft. none)
Series 2 4th Edition (074-技; ft. Deltadromeus)

Taiwanese
Artwork from one of its various arcade cards is seen on the TCG Move Card Absorb Power.
This Move can only be used twice for a Dinosaur. This mechanic is similar to Attack Boost, Defense Boost, Technique Boost, and Elemental Power.
Whenever this Move summons Leaellynasaura, there seems to be a miscalculation of the walking animation of the dinosaur, making it keep walking briefly although it stopped moving forward. This error is also seen with Cryolophosaurus in Haste, Counterattack Recovery, and Light Recovery.
Community content is available under
CC-BY-SA
unless otherwise noted.