While popularly thought of as being 50 feet long, both of its species (L. lambei and L. magnicristatus) were only about 30 feet long. A former 3rd species, "L." laticaudus, was the 50-footer, but was in 2012 reclassified as the distinct genus Magnapaulia.
General Statistics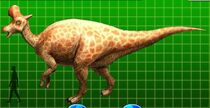 Dinosaur King Statistics
Arcade Stats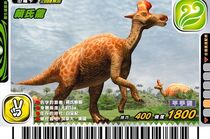 DS Stats
TCG Stats
Lambeosaurus
The Lambeosaurus was an herbivore with a distinctly shaped crest on its head. It was one of the largest duck-billed dinosaurs.
Charging Lambeosaurus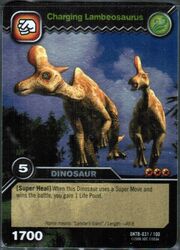 [Super Heal] When this Dinosaur uses a Super Move and wins the battle, you gain 1 Life Point.
Prairie Lambeosaurus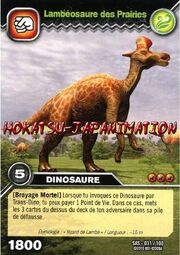 [Mortal Crushing] When you Dino Slash this Dinosaur, you can pay 1 Life Point. If you do, put the top 3 cards of your opponent's deck in their discard pile.
Trivia
Gallery