Kentrosaurus is famous for the gradual transition of plates to spikes along its back. Often seen as basal in the stegosaurid family, recently it has been found to be a derived relative of Stegosaurus. Additionally, Kentrosaurus and Centrosaurus had a minor confusion where it was assumed they both had the same name, and they were given new names like "Kentrurosaurus" and "Eucentrosaurus"; however, as the spelling and pronunciation differed, they were not the same name and the renaming was unnecessary and reverted.
General Statistics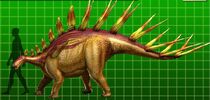 Dinosaur King Statistics
Arcade Stats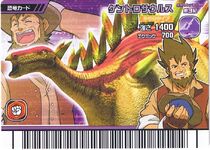 TCG Stats
Kentrosaurus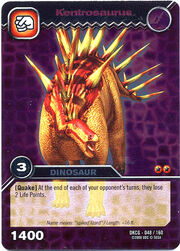 [Quake]

At the end of each of your opponent's turns, they lose 2 Life Points.
Thirsty Kentrosaurus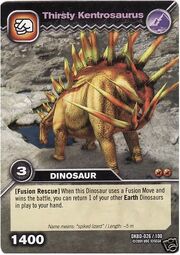 [Fusion Rescue]

When this Dinosaur uses a Fusion Move and wins the battle, you can return 1 of your other Earth Dinosaurs in play to your hand.
Splashing Kentrosaurus
[Spectral Summoning: Earth]

When you Dino Slash this Dinosaur from your hand, you can reveal an Earth Spectral Armor Dinosaur from your hand. If you do, search your deck for a Dinosaur that can be used to Dino Slash that Spectral Armor Dinosaur and add it to your hand. Then shuffle your deck.
Trivia
Gallery